Adding a fringe to knitted and crocheted scarves
Scarves are perfect projects for beginning knitters and crocheters, and everyone loves a cozy crochet or handknit scarf. Simple scarves, however, can seem too plain and boring. Making a fringe and adding it to your scarf. is an easy way to add interest to a simple knit or crochet scarf and is a good way to make a beginner scarf look more impressive.
Fringe adds pizazz to simple scarves made in single crochet or double crochet stitch. This finishing technique not only looks pretty but will also help keep the ends of the crochet fabric from curling.  For knit scarves, fringe also makes the perfect accent for garter stitch, seed stitch, cabled, and ribbed knit scarves. Adding fringe is also a neat solution when a knitter or crocheter runs out of yarn and ends up with a scarf that is just a bit too short.
How long to make a fringe
 How long the fringe on a scarf should be is a matter of taste. Typically,  fringe is between 2 and 4 inches. Shorter fringe is good for children's scarves because it looks playful and is less likely to get in zippers. Longer fringe looks elegant on scarves, wraps, and cashmere shawls or afghans.
Materials for making a fringe
 Making and adding fringe to a scarf is so simple and quick that it can be done almost anywhere. Only a few supplies are needed and these can be carried in a knitting bag.
Cardboard, DVD case, or another object a little wider than the desired length for finished fringe
Scissors
Yarn that matches or complements scarf yarn
Ruler or straight edge (optional)
Crochet hook

Instructions for adding fringe to a scarf
 Fringing a scarf takes only minutes to do with this method, which is much quicker and easier than measuring and cutting individual strands of yarn.
Wind yarn around cardboard or another object
Use scissors to cut along one edge of the cardboard to make strands
Group strands for one tassel and fold in half
Insert crochet hook into scarf from the wrong side to right side and pull all of the folded strands partway through the hole to form a loop on the wrong
Pull ends of the yarn through the loop
Gently pull ends to tighten the loop and form a knot
Repeat this process evenly across the bottom of the scarf
Trim ends to make fringe even using a ruler or straight  edge as a guide, if
Tie knots or dip yarn end in a fray-prevention product or clear fabric glue
Embellishments when making a fringe
All sorts of knitted and crocheted accessories can also be embellished with this technique.  Fringe can also be used to add a feminine touch to knitted and crocheted home accessories, such as pillows,  afghans, and throws. Adding fringe to a scarf is a simple project, and scarves are great quick handknit holiday gifts.
PIN FOR READING LATER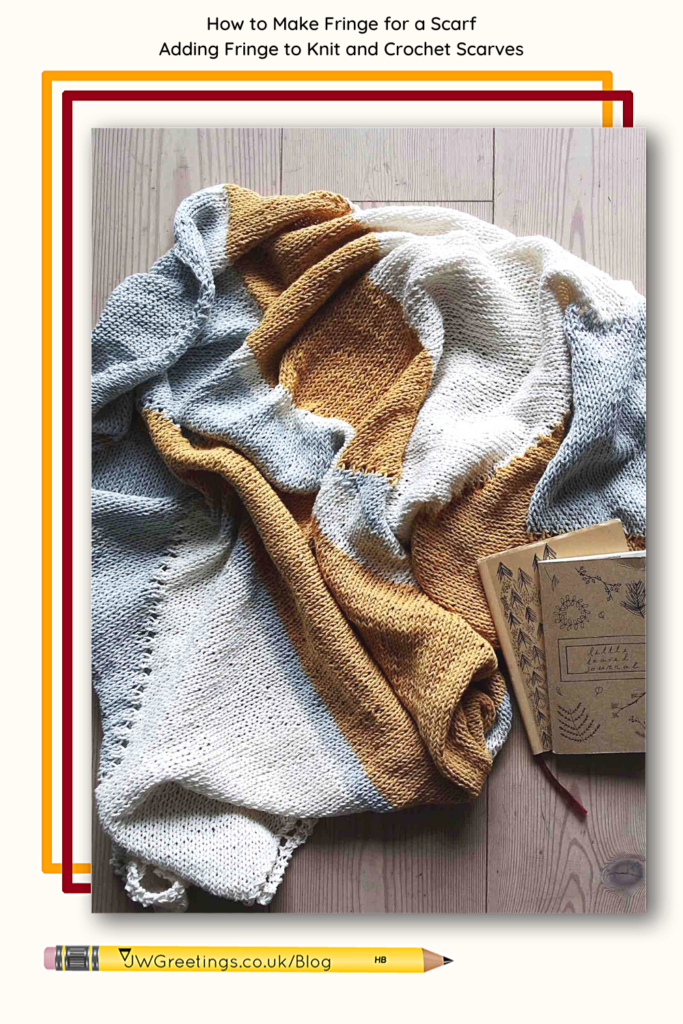 The form you have selected does not exist.