Rescue Oil loves blemishes and marks
I have personally been using rescue oil for over 2 years and I can honestly say that this product does exactly what it says on the tin. It is ideal if you have uneven skin tones, stretch marks, pregnancy stretch marks, aging skin, dehydrated skin and of course scars. It all started back in the middle of 2008 when one morning I was graced with an ugly spot on top of my lip to the left of my nostrils. Not a place you can easily hide, oh how i tried but again not a easy place to hide. When my new spotty friend went through the soar stage, then the whitehead stage and proceeded to pop it. Oh lord did it hurt, anyway after it bled a bit as they do, I was happy to think that after about a day or two my lip would look how it always did. However I was wrong, oh it did go away but it left a very dark mark on my skin. I thought I would be able to cover this new found beauty spot somehow, you know the way with foundations but it found it's a way through every time.
Rescue Oil had Competition called Bio-Oil
At the time of all this happening, there was an ad on the tv which showed Bio-Oil as a solution to my worries but when I went to get some the price stopped me dead in my tracks.  £9.99 'are you crazy', 'I will find another way to hide this sucker'. A few days went by and the mark was still saying hello to everyone I met, then I went into my local Home Bargain store, oh how i loved that store. The lord must have felt my need for help for I saw a product which looked like the Bio-Oil product but with a different name and this is when I and Rescue Oil first met, it was love at the sight of the price 99p. I knew Home Bargain was the money saver of shopping but this was brilliant, I brought 4 bottles with change, smiles all round.
Creating a facial routine with Rescue Oil
I couldn't wait to get rescue oil home to see if it worked. I tried it as soon as I got in, and found that it smelt really nice but when I put some on my skin and rubbed it in it was still oily. Being of dark complexion having an oily patch on my face was as bad as having the dark mark.
"So I decided to just apply it at night before I went to bed and this became my nightly beauty routine."
At first, nothing happened, you know how we get if something is supposed to happen we are there in the mirror looking hard for changes. Forget the fact that it had only been 2 or 3 days. After a while, I forgot about looking at the mark until one morning I realized that I had to look pretty hard to find the dark mark. It had faded really well, I continued to use it and one day I looked in the mirror to find it, had gone completely – hooray.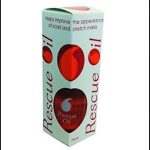 I couldn't stop using it, as it actually worked
As I mentioned before, I have been using it for over 2 years, well after seeing how it worked so perfectly on my dark mark, started applying to my many other blemishes and uneven skin tones, of all sizes, there was no stopping me now. Plus a small amount goes a very long way, I am on bottle number 2 and it's not even at the halfway mark way.
So there you have it if you need a helping hand with uneven skin tones, scars, etc then Rescue Oil is the friend you need to find. By all means, if you are happy spending the extra cash for Bio-Oil goes right ahead but I don't see why you need to spend more when the cheaper one does the same job..
Happy Rescue Oil Using
Over to you, please share your results with us: 
How long was you using it before you saw your results?
How do you find the oil on your skin?
Do you use it in the day or at night?
Do you have any questions, share away.
Update:
I wrote this review on the 14th Sept 2010 and over the years it as become very popular.  I still get positive results from rescue oil.